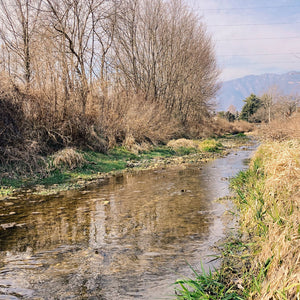 The path begins with a SHORT EXCURSION along the Giaron stream: students will be encouraged to intervene and observe the surrounding landscape.
The next DIVISION INTO TEAMS for participation in aLUDIC-MOTOR ACTIVITY, involves answering questions and solving problems.
The sharing of solutions, in addition to doing REFLECT participants on habits related to respect for the environment and the sustainable use of water resources, allows the teams to progress the game up to ACHIEVING THE GOAL.
PROJECT ALREADY STARTED WITH THE PRIMARY SCHOOLS OF THE MUSSOLENTE MUNICIPALITY
Spring, autumn and winter
It is advisable to have a morning available (3-4 hours)
Teachers and pupils of classes III, IV and V of primary schools; all classes of lower secondary schools.
The components of the Giaron stream: embankments, flora, fauna, rolling basin; the water cycle; the role of waterways in the economy and society of yesterday and today; water pollution and water waste.
Read thematic maps and orient yourself in space; recognize the characteristics of the environmental contexts and the transformations over time; implement responsible attitudes in respect of the environment and water resources.
Competence in matters of citizenship; functional alphabetic competence; personal, social competence and the ability to learn to learn; competence in cultural awareness and expression.
Geography, history, technology, natural sciences, art and image, civics.
Organize an educational outing
Do you want to participate with your class or school? Download the form and send it by mail to fattoria@mrhops.it